Art (1900-1945) > Expressionism Christian Rohlfs - Biography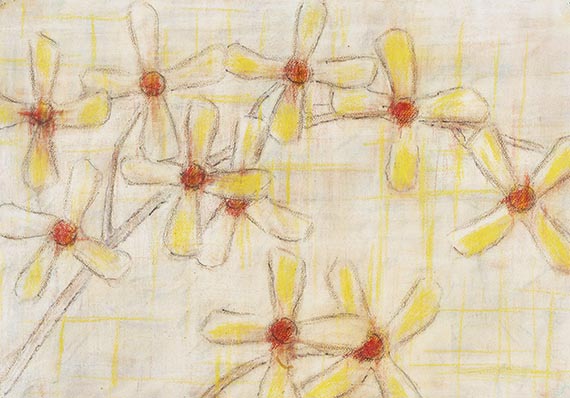 ---
Sternblüten. 1933.
Watercolor and chalks.
Lower right barely visibly monogrammed and dated. Inscribed with the artist's name on the reverse by a hand other than that of the artist, as well as with the catalogue raisonné number and with several numbers. On firm structured wove paper by P.M. Fabriano (with watermark). 39 x 56 cm (15.3 x 22 in), the full sheet.
[KT].
• Magically light yellow-transparent flower composition.
• Rohlfs dematerializes the color and creates compositions of delicate poetry.
• In the abstract floral depictions of the late phase, Rohlfs reached a high point in his work.
• The floral compositions are among the artist's most sought-after works on paper on the auction market.

PROVENANCE: Collection Prof. Paul Vogt, Essen.
Galerie Remmert und Barth, Düsseldorf.
Private collection Austria (acquired in 2012).

EXHIBITION: Christian Rohlfs 1849-1938, Gemälde, Aquarelle, Zeichnungen, Druckgraphiken, Galerie Remmert und Barth, Düsseldorf, 1993, p. 113, cat no. 86 (fig.).

LITERATURE: Paul Vogt, Christian Rohlfs, Werverzeichnis der Aquarelle, Recklinghausen 1958, p. 197, no. 33/55.
Dorotheum, Vienna, Klassische Moderne, auction on May 18, 2011, lot 947 (fig.).


For information concerning the condition, please view the high resolution image / backside image.