Art (1945-contemporary) > Figurative Painting (40s-60s ) Friedrich Karl Gotsch - Biography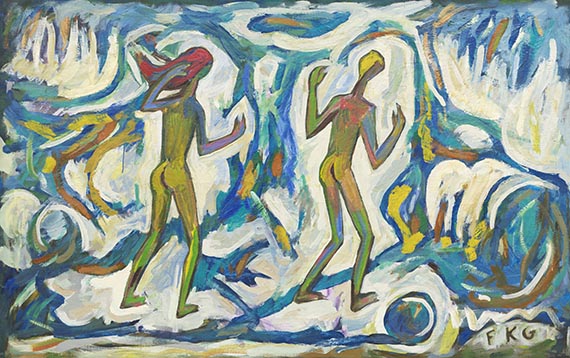 ---
Mann und Frau vor den Wellen. 1968.
Oil on canvas.
Lower right monogrammed. 95 x 150.5 cm (37.4 x 59.2 in). [AW].

• Dynamic composition with color elements detached from the subject.
• Friedrich Karl Gotsch – one of the expressionists of the lost generation.
• From 1921 to 1923 one of the few master students of Oskar Kokoschka.
• The artist's works include: in the Buchheim Collection, Bernried, and the Petit Palais Museum in Geneva.

PROVENANCE: Private collection.
Private collection Lower Saxony (acquired in 1997).

LITERATURE: Peter Goeritz/Marion Leuba, Friedrich Karl Gotsch 1900-1984. Werkverzeichnis der Gemälde, Neumünster 1993, no. 849 (fig.).
Villa Grisebach Auktionen, Berlin, 57th auction, Kunst des 19. und 20. Jahrhunderts, May 31, 1997, lot 300 (color illu.).


For information concerning the condition, please view the high resolution image / backside image.