Art (1900-1945) > Figurative Painting (40s-60s ) Franz Radziwill - Biography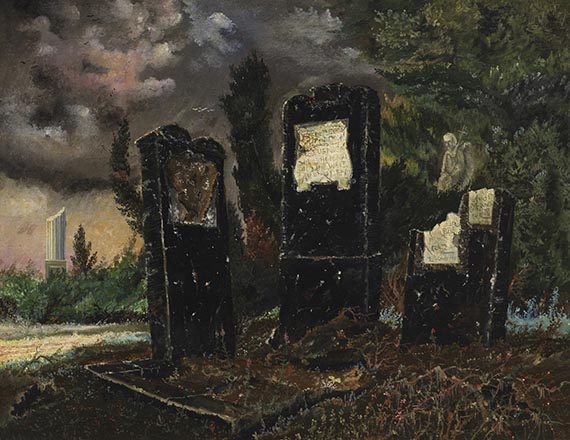 ---
Grabsteine. 1925.
Oil on canvas.
Signed on the left tombstone. With several numbers on the reverse as well as with label numbered "284" in typography. 42 x 54 cm (16.5 x 21.2 in).
[KT].
• The self-taught artist Radziwill was enthusiastic about Romantic painting in his early creative period: Caspar David Friedrich's motifs were a great inspiration to him.
• Radziwill's Magic Realism unites surrealistic and mysterious elements.
• Atmospheric work of an uncommon suggestive power, nuanced in terms of technique and colos.
• Works by the extraordinary artist are in renowned collections like the Hamburger Kunsthalle, the Nationalgalerie Berlin and the Städtische Galerie im Lenbachhaus, Munich.

PROVENANCE: Private collection Lower Saxony (acqquired in 1995).

EXHIBITION: Kunsthütte, Chemnitz, Jan./Feb. 1928.
Die Gemeinschaft. Gemälde, Skulpturen, Graphik, Architektur, Metallarbeiten. Erste Reihe, Galerie Deneke, Berlin, Mai 1933, Kat.-Nr. 59.
Kaiser-Friedrich-Kunsthalle, Wilhelmshaven, Frühjahr 1936.
Schneeweiß und Nachtschwarz, Franz Radziwill Haus, Dangast, 13.3.2016-8.1.2017.

LITERATURE: Andrea Firmenich/Rainer W. Schulze, Franz Radziwill 1895 bis 1983. Monographie und Werkverzeichnis, Cologne 1995, p. 349, no. 271 (fig.).
Hand-written list, no. 81.
Villa Grisebach, Berlin, Kunst des 19. und 20. Jahrhunderts, 38th auction, May 28, 1994, lot 221 (fig.).
Auktionshaus Lempertz, Köln, Moderne Kunst - Gemälde - Plastik - Aquarelle [..], auction on June 10, 1995, lot 597 (fig.).


For information concerning the condition, please view the high resolution image / backside image.