Art (1900-1945) > Bauhaus Lyonel Feininger - Biography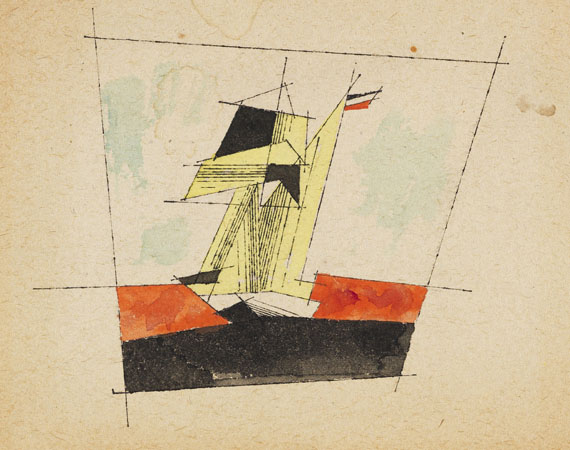 ---
Sailing Ship. Ca. 1934.
Watercolor and India ink.
On wove paper. 9.2 x 18.1 cm (3.6 x 7.1 in), size of sheet.
This typical, geometrizing watercolor of a sailing boat with the black, white and red flag of the German Empire is a small version of Feiniger's classic navy motifs. Through inheritance it went into the possession of Lyonel Feininger's son Lux. [AW].
• From the artist's estate.
• Feiniger had a great passion for sailing boats and ships.
• During the diffult years after the closure of the Dessau Bauhaus and the Nazi takeover, Feininger spent the spring and summer of 1934 in Mrzezyno near Szczecin on teh baltic Sea.
• Lyonel Feininger's works are in many important international collections like the Museum of Modern Art, New York, the Centre Pompidou, Paris, the Städel Museum, Frankfurt a. M. and the Sprengel Museum, Hanover.

With a photo expertise from Achim Moeller, New York, dated October 7, 2021. The work is registered at the archive of The Lyonel Feininger Project LLC, New York, with the number 1509-10-08-18.

PROVENANCE: Collection T. Lux Feininger, Cambridge (MA), USA.
Private collection New York.

In good condition. All in all slightly unevenly discolored. Left margin slightly creased. Faint isolated water spots.[EH]
For information concerning the condition, please view the high resolution image / backside image.