Art (1900-1945) > Modern Abstract Art Oskar Schlemmer - Biography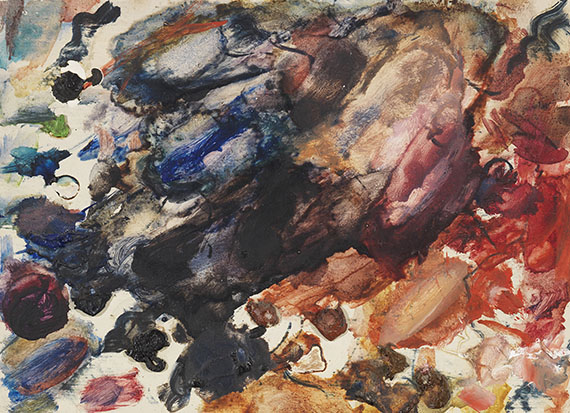 Palette Oskar Schlemmers. 1942.
Oil on panel, laminated on panel.
Verso of the backing with a label, there inscribed with a confirmation by Tut Schlemmer, the artist's widow. 20.5 x 28.3 cm (8 x 11.1 in). Backing: 38 x 46 cm (14,9 x 18,1 in).
In 1940 Schlemmer made a large mural in the living room of the house of Dieter Keller (von Maur G 411). After the work had been completed the artist presumably gave his friend the palette as a gift. While the paint in some parts of the palette looks like Schlemmer had just squeezed it out of the tube, it was blurred with water or other colors in other parts. In between we find accentuating brushstrokes that stem from the artist wiping the brush.
Rare and impressive document of Schlemmer's unique mode of operation.

PROVENANCE: Dieter Keller, Vaihingen near Stuttgart.
Private collection Baden-Württemberg.
Private collection Lower Saxony (since 2000).

LITERATURE: Villa Grisebach, auction 85, November 25, 2000, lot 334 (with color illu.).

Very nice overall impression. With a small spot of colors in dark pastose part in upper left. Edges minimally rubbed in places.
The condition report was compiled in daylight with the help of an ultraviolet light and to the best of knowledge. [JS]
For information concerning the condition, please view the high resolution image / backside image.