Art (1945-contemporary) > Figurative Painting (70s - contemporary) Chéri Samba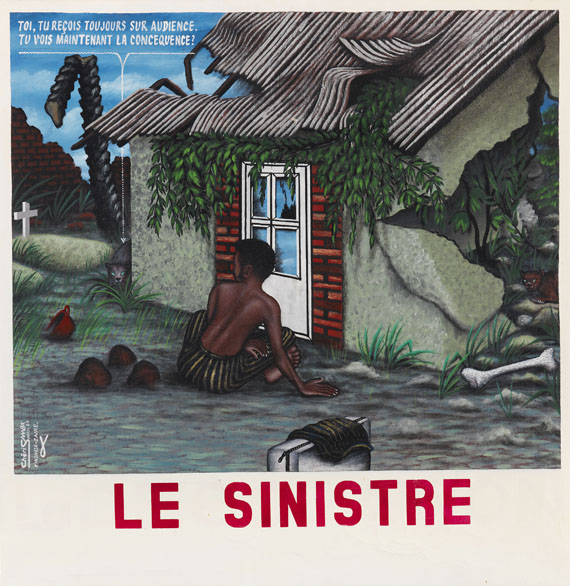 Le Sinistre. 1987.
Oil on canvas.
Lower left of actual illustration signed, dated "Avril 1987" and inscribed "Kinshasa - Zaire". 65 x 63.5 cm (25.5 x 25 in). [CH].

PROVENANCE: Private collection Hesse.

"When I paint, my main concerns are to represent things as they are, to communicate with humour, to ask relevant questions and to tell the truth. I consider myself a sort of painter-journalist. My source of inspiration is daily life. I always have suitcases full of ideas. As long as the world is the world, and writers have stories to tell, I will have something to say. Each time I meet someone, I think of another two or three paintings, but I don't have time to realise them all."
Chéri Samba in an inteview with Fred Robarts, 2007, in: Time Out London

Good overall impression. Lower part of the image with craquelée and isolated surface splits and small breakages, however not affecting the image. The condition report was compiled in daylight with the help of an ultraviolet light and to the best of knowledge.
For information concerning the condition, please view the high resolution image / backside image.