Art (1900-1945) > Modern Abstract Art Rudolf Jahns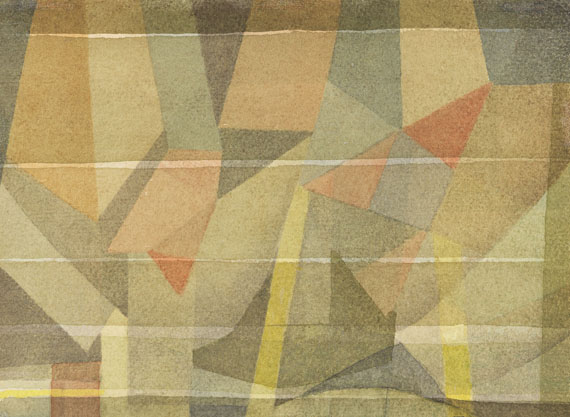 Landschaft im Nebel. 1924.
Watercolor.
Roselieb-Jahns/Krempel 164. Verso signed, dated, titled "Dämmerung (Kompos.)" and inscribed with information on paper type. On laid paper by Fabriano. 12.7 x 17.4 cm (5 x 6.8 in) , the full sheet.
[CH].

PROVENANCE: Private collection Rhineland.

EXHIBITION: Rudolf Jahns: Retrospektive 1919-1980. Exhibition on ocassion of the 85th Birthday, Catalog Raisonné of paintings, watercolors, drawings, print 1919-1933, Kunstmuseum Hanover with Collection Sprengel, Hanover 1981 (with cat.); Wilhelm-Hack-Museum, Ludwigshafen 1981; Quadrat Bottrop Moderne Galerie, Bottrop 1982.
Rudolf Jahns. Werke auf Papier, Westfälisches Landesmuseum für Kunst und Kulturgeschichte, Münster 1988.

In good condition. Upper right corner with faint creasemark and tip of corner slightly rubbed.
For information concerning the condition, please view the high resolution image / backside image.